/ COOPER NEWS
Site last updated: May 4th, 2015

+ NEW "Wake Up" Video & Start Local single
Hey friends, check out this SUPER FUN NEW VIDEO for my tune "Wake Up". I've made some new music for an upcoming documentary film called "Start Local" by my super talented friend Nate Lacroix. It's a catchy little 2-min ditty that was fun to make, and it also features me rapping. Yes. Rapping. Maybe you were unaware, but I'm from the streets y'all! Many thanks to Nate for doing such an awesome job with this video, make sure you check out his movie, it's inspiring stuff!





+ NEW "Slow Blood" FREE Halloween Digital Single Available
Halloween is just about my favourite time of year, so I've written and recorded a spooky new tune called "Slow Blood" that I would like to share with you for free. Please enjoy and share with friends! CLICK HERE TO DOWNLOAD "SLOW BLOOD" FOR FREE!

+ NEW House Concerts & Show Bookings
House concerts are just about my favourite kind of show to play. If you're interested in hosting an intimate house concert (your living room, basement, backyard, cottage, etc.) EMAIL ME and let's make it happen. Thanks!

+ "Forest of Reading" New Music Available
As some of you may know, I really love doing music work with kids. I've been writing and performing the past year or so with local schools for a literacy program called "The Forest of Reading". I have some new tunes from this work that you can check out RIGHT HERE.

+ Birthday Album Available NOW!
Well, I recently had a major "milestone" birthday (can't tell you, or I have to kill you). My wonderful family and friends organized a "tribute" album where 15 amazing musician friends covered 15 of my songs. It's absolutely unreal. The best news is you can listen or download the whole thing for free HERE!




+ WATCH "North Of 10: An Intimate Portrait of Scott Cooper"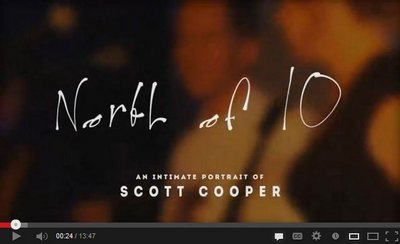 My good friends at Midland Film Club have done it again! Check out this great mini documentary they shot about my album release in Penetanguishene, ON. Some cool performance stuff, as well as some interview footage from my own living room. I hope you like it! WATCH IT HERE NOW!

+ "Quiet Company" Review on PopMatters
Check out what the nice folks over at Popmatters had to say about my new album "Quiet Company" HERE.
+ "Quiet Company" Now Available on VINYL
After lots of talk and promises, I'm excited to announce my new album "Quiet Company" has been pressed on a limited run of 12" vinyl LP's and is available NOW! It comes in 160gram heavy-weight wax, and includes a free mp3 download card so you can take it to go on your iPod or whatevs. It's wicked, I've never been this stoked about a product I've made for my music. So what are you waiting for? ORDER YOUR VINYL HERE!

+ New HD Video For "Huntsville"



Check out THIS VIDEO for my tune "Huntsville" shot by my friends at Midland Film Club on a beauty summer day in the creek at Gus' Cabin. It's a nice snapshot of summer in one of my fave places -- perfect for warming you up on a chilly fall day. WATCH IT HERE NOW!
+ "Quiet Company" Available NOW On iTunes
My new album is now available at iTunes. Go, go, go!

+ "Quiet Company" Gets Raves From Roots Music Canada
Nothing like starting release day with a tasty review. The clearly brilliant (ahem, smooch!) Andy Frank posted THIS nice write-up on the popular roots and folk music site, Roots Music Canada. Flattered beyong all get out, I tellyawhut. Check it out.

+ My New Album "Quiet Company" Is Here!
Sweet! My new album is now available for to purchase (both physical CD's and MP3's) on BANDCAMP and CD BABY. I hope you like it, would love to hear your feedback anytime. Unless it's negative, then, like, fergettit man! Stay tuned for details on my limited run of 12" vinyl LP's.

+ NEW WEBSITE! NEW MUSIC! NEW, NEW, NEW!
Howdy Folks! I have a new LP called "Quiet Company" that's about to launch in September. I'm really excited about the new music and all the neat ways we can now connect to one another. If you've got anything to say please drop me a line at sc@scottcoopermusic.com, or connect via the social media links right over there ----------->

+ CD/VINYL RELEASE SHOWS ANNOUNCED!
I've booked a handful of album release show in September and October, come check out the songs live and of course pick up a physical copy of the new record on CD or 12" vinyl. I'll have lots of limited edition merch and neat stuff at these shows that you won't be able to get through the website just yet. So you'll definitely want to check 'em out. SHOWS page has all the details. Hope to see you soon. Thanks!

+ Watch the "OFFICIAL" HD Video for "Truth Is A Change"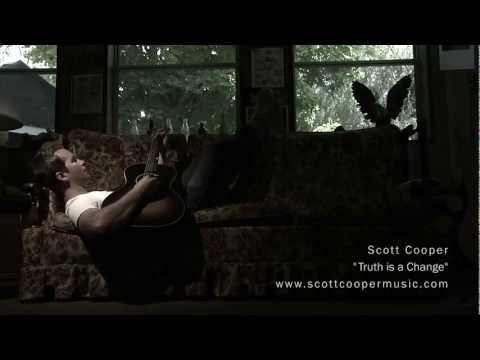 I'm pleased as punch to let you know that there is a sweet hi-def (HD) video for my new tune "Truth Is A Change". It was directed by the good folks at Midland Film Club. Check it out, would love to hear your feedback about the new sounds. Please consider sharing the link with likeminded friends via YouTube, Facebook, Twitter, etc. Thanks so much!

WATCH THE VIDEO FOR "TRUTH IS A CHANGE" NOW!

+ PRODUCER PAGE
As I sit up here in the great white north, I'm always looking for new projects to tackle. Thus, my PRODUCER page. If you're a musician, writer, or band that wants to record your songs, co-write, collaborate, or even just some advice on how to approach your latest project...OR, maybe you've already recorded but want a fresh set of ears to MIX...drop me a line, we can chat. sc@scottcoopermusic.com

+ SC MAKES ANTI-HIT LIST IN THE TORONTO STAR
Whoah! A tune of mine was chosen for inclusion on the "Anti-Hit List" in the Toronto Star. The Anti-Hit List is an essential listening blog/podcast by The Star's music critic John Sakamoto, highlighting his favourite new music tracks that flew under the mainstream radar. Read what he had to say and download the podcast HERE.


Hey Kids! If you want more SC action, just browse the Social Media links in the top right corner. Yeah, up there. No wait, higher. Yeah, that's the one.


-----------------------------------------------------------------------------------
+ All content ęScott Cooper > Unauthorized use prohibited by like, laws and stuff...